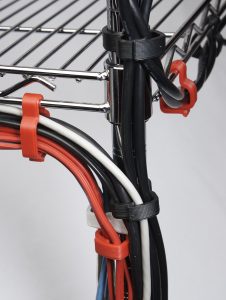 These racks, commonly known as stainless-rack shelving, wire-racks, or through their commercial-kitchen association, NSF-racks, consist of 1.0″ diameter stainless or chromed-steel vertical posts, with grooves spaced 1-inch apart. Wire shelves and other accessories at held in place via thin plastic wedges that fit around the posts.
4CELNK-YR Rack series is designed to let you have organized cables, tubes and other things for the things you run on the racks, with No Tools, and No Waste.
4CELNK-YR Rack series comes in a One-Tier / Planning Kit, with enough parts for about one tier of a typical 2×4 foot shelving system. Since that Kit includes the three different part types, you can use that to plan your entire installation. Once you've got the planning out of the way, you can get the other clips in convenient 8-piece packs, in the 1.0 tubing, 0.25 wire, and 0.25 large capacity wire clips.
All 4CELNK-YR parts are available in black, red or white. While some will choose based on personal preference, those with truly large installations might want to segment their cabling according to clip color. No matter how you choose to go, 4CELNK-YR give the flexibility to change your installation whenever you want, No Tools, No Waste.