Made to fit oZone and R3volution sim rigs
View More...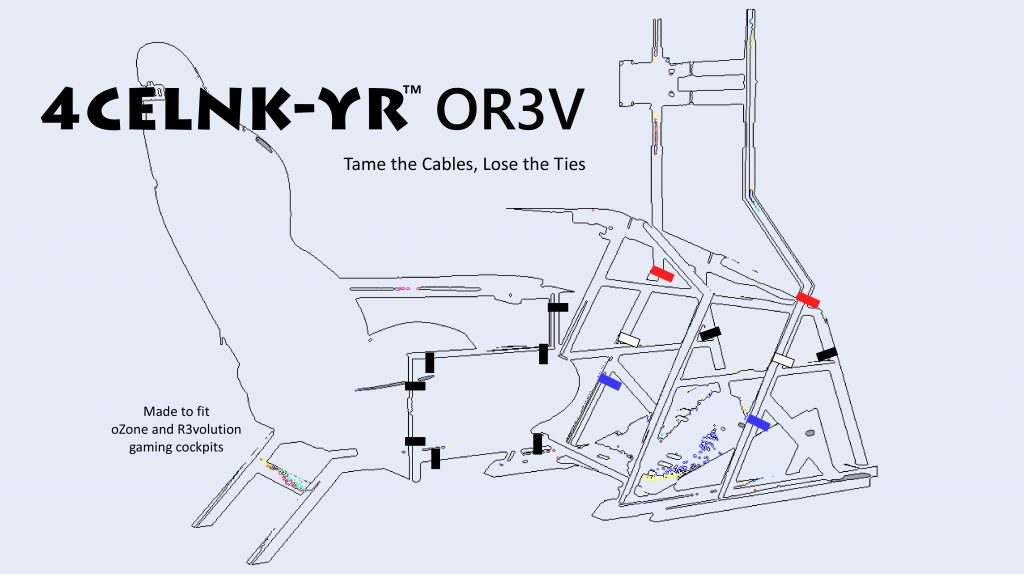 Finally! Gaming rig cable management that's easy to put on, easy to change, and easy to live with. Imagine: no more cutting and replacing wire-ties. No more scratching the rig. Now you can have your rig look put together, yet change it instantly with No Tools and No Waste.
The 9-piece Base Kit is the ideal starting point for cabling your rig. You get a total of six clips for the larger 1.25 inch tubes (including two extended-capacity clips), and three smaller clips for the 1.0 inch mouse-platform vertical riser tube. The 9-pc Base Kit is available in black or white.
Most people find they need around a dozen total of the 1.25 clips, so a 1.25 6-pc expansion pack gets you there. Personalize your rig with 1.2 expansion pack in a variety of colors and combinations.
If all that doesn't get you enough cabling capacity, there's the Large Capacity Kit. With four 1.25" and two 1.0" plusBack clamps in black or white, you get a total (with the original Base Kit clips) or nearly three times the capacity! That's a whole lotta wiring.
And lastly, if you have more cables going up to the side platforms, you can add a 1.0 3-pc expansion pack, in black or white.
Note: The oZone and R3volution models use the same diameter tubes, but in significantly differenty configurations. It's expected that you'd typically use fewer clips on the oZone. But, system variability is larger than the structural difference, so the result is: get what you need. 😉
How much can they hold?
6+ Power Cords? Yeah Right...prove it!
The cable areas in the clips for tubing diameters 1.0 inch and above are designed to hold at least 7 typical "SVT" power cords (UL-Type SVT, 3C/18AWG 300V, ~6mm in diameter).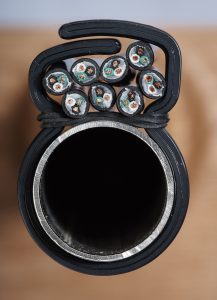 On the OR3V models, the Base Kit has parts to manage cables on both sides of the rig, so expect 12-16 "power cord equivalents" (PCE) total capacity on the rig, front-to-back. Up the thruster mount / mouse platform you'll get about 6-7 PCE.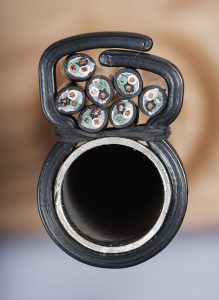 The 1.25 Expanded Capacity clips have a secondary channel, sized for ~4 16AWG two-conductor speaker cables, in addition to the 8 SVTs on the other side.
"Well yeah, but my cables are HEAVY!" The thing to remember is that no component is ever infinitely strong, nor will anything (besides time itself) last forever. The same is true with 4CELNK-YR clips. There is some large amount of force that will break them. I haven't reached it yet, but it's not at all impossible to yank on a cable and pull it out of the clip. (If you're going to be violently pulling the cables, then maybe stick with tie-wraps)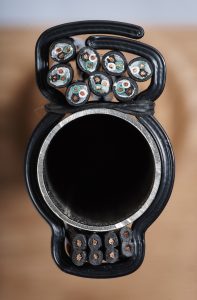 From what I've been able to tell, "a couple pounds" (~1kg) is just fine as far as holding strength. I might be inclined to add more bands (5-6 instead of 3-4) up to about 5 pounds (2.2 kg), but beyond that weight you should consider adding more clips. A typical "good" straight run of 6+ ethernet cables would normally have a clip about every 3-4 feet (~1 meter) or so, more if the cables need more support.
But, beware: if you put only one clip every 8 feet, and expect it to hold 20 pounds, that will very likely end in disaster...and the warranty won't cover it.
Installing 4CELNK-YR Cable Clips
Gently spread the arms and slide clip over tube. Avoid Twisting the clip. (View More...)
Yes, that's all there is. Snap them on, add bands if you think they'll be needed, then and start adding cables. See the section farther down on how to set the tension using the bands, but often they're not needed.
NOTE: When you do this, the clips may make "crackling" noises, and there might be discoloration of the plastic on the inside edge. This is actually normal for this kind of 3D-printed part.
IMPORTANT: Don't spread the arms out too far! The more you bend them, and the more often you bend them, the more they will lose their "spring" over time. Yes, they can actually be spread quite large and they will "work" afterwards. But, never as well as before being over-stressed.
Setting the 4CELNK-YR Holding Tension
Add bands from the included Bag-O-Bands to get the tension just right. (View More...)
The clips should stay in place and adequately hold the cables that you plan to use. 3 is typical, going to 5 or more when the clip is full.
If you need to later change the number of bands, just pull any captured cables out, add the other bands, then put them all back in again. Easy, with Zero Waste!
Some users report not needing to use any bands at all; that will work well for few shaker cables, or just a couple USB cables. Add more bands for larger bunches, or where you want the bundles to stay in place a little better. There should be enough provided so you get about 5 bands per piece in the package.
TIP: The bands that ship with 4CELNK-YR are actually children's 1" hair bands: they're cheap, and available most everywhere. If you want everything really locked down, with a little "security", you could even use...gasp!...a tie wrap.
Adding and Removing Cables
There's instructions?...
Adding Cables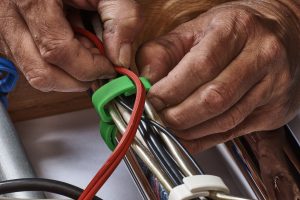 Now comes the easy part!
Grasp the inside arm with one hand.
Push the cable against the outside arm until you can press the cable into the capture area.
Optional: Stand back and ask "whoa...where's the cut tie-wrap?"
Removing Cables
Here's where it gets impossible for tie-wraps...
Separate the cable you want to remove from the others in the bundle.
Grasp the outside arm with one hand.
Push the cable against the inside arm until there's enough room between the arms to pull it out.
Do NOT throw wasted tie-wraps in the garbage...since there are none.
CAUTION: If you pull the cable out too quickly from the capture area, the inside arm might snap back and hit your fingertips.
Using 4CELNK-YR Expanded-Capacity Clips
View More...
Sometimes, you need MORE. Not just a little more, but DOUBLE. That's a whole lot of more!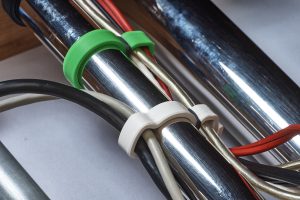 We've included a couple of our Expanded Capacity 1.25" clips in the OR3V Base Kit so you can give them a try. With these, if you have a set of shaker, speaker or other cables that rarely change, and you want them out of the main wiring channel, then 4CELNK-YR "plusBack" clips are exactly what you need.
If your rig has a lot of cables everywhere, you might want to consider the Large Capacity Expansion Kit, which you can use along with the Base Kit and regular Expansion packs for truly, insanely, massive riggings. If you do max a set of those out, please...do send pictures!
To get the cables into the back-side, "permanent" area, the easiest way is to add them into the clip before you put the clip on the tube. Or, you can usually insert them first to the main area, and then slide them around, over the tube, into that back area. Either way should work, with the thickness of the cable determining how much effort it'll take. Easy with USB cables, not so much with power cords..
Warnings & Cautions
View More...
Please keep the following in mind when using 4CELNK-YR cable clips:
Watch for damaged, worn, frayed or otherwise dangerous cables, and replace all that are unsafe.
Dangling, partially-secured cords beneath desks, tables, and in shelving can in some instances present electrocution and strangling hazards. Be wary!
The 4CELNK-YR arms are closely spaced, and there is spring tension holding them together. Use with care to avoid getting pinched or struck by the arms.
4CELNK-YR Cable Clips are not UL-Listed, they are not specially plenum-rated, nor are they flame-retardant.
4CELNK-YR Cable Clips are not a "safety device".
4CELNK-YR Cable Clips are not specially treated for UV-resistance. Using 4CELNK-YR outdoors, or in a high-UV environment can cause them to age more quickly, and, ultimately, fail sooner.
4CELNK-YR Cable Clips, including the Rack Series, have not been NSF-certified for use in commercial kitchens.
4CELNK-YR cable clips are made from ABS plastic: tough, but not unbreakable. Don't overload the clips.
There may be other hazards associated with your doing with cables whatever it is you're doing. Please always be aware of your surroundings, and be careful.
Easy-Change Cable Management…
…with NO Tools and NO Waste
See the complete 4CELNK line-up...
4CELNK-YR flatBack Series



Cables! They're stuffed underneath and behind the desk, the TV and video center, and every other electronic system at home and work. Cables are everywhere! Fix that desk-side mess with stick-on, No Waste 4CELNK-YR flatBack series cable clips.


4CELNK-YR Rack Series



Wire shelving racks are used in the home, office, greenhouse, and industrial settings. Route cables neatly along the poles, under or over the shelves, in configurations large and small, with 4CELNK-YR Rack series kits and packs.


4CELNK-YR Tubing Series



Electrical-Mechanical Tubing (EMT) is commonly used in construction and picnic/event canopies. Keep those one-time events from producing permanent tie-wrap waste with reusable, No Waste 4CELNK-YR Tubing series cable clips.

4CELNK-YR OR3V Series



The 4CELNK-YR OR3V Series is specially designed to fit the Obutto R3volution and oZone gaming rigs. By keeping the cables up tight against the rig tubes, they stay nice and neat, and don't get tangled. Your cabling will thank you every race with 4CELNK-YR OR3V series cable clips.


4CELNK OR3V LFE Mounts



Mount ButtKicker Mini-LFEs to your rig, and feel the gaming like never before. Machined aluminum 4CELNK LFE mounts are available in pairs and sets of four or 5.